How to Find the Best Home Tuition in Singapore in 2023?
Singapore is one of the leading countries for multiple reasons. It has a lot to offer and these are solely based on the excellent qualification and experience one can acquire from education in Singapore. The education sector is growing rapidly, with an exclusive demand for quality education – especially in the area of home tutoring services. Without any doubt, home tuitions are amongst the most demanded services at present as parents are trying to find substitutes or just different options that can give them comfort and peace of mind if they are unable to accompany their child while they attend educational institutions.
As a parent, you want to help your children in every possible way. You want them to be successful, not just in their education, but also career and personal development. The best way to achieve this is to have a role model who has been there and done that – someone who knows the ins and outs of their field. A great home tutor could be the key to achieving success for your child. However, finding a home tutor can be easier said than done. With so many options, it is hard to find the right tutor for your child's needs. Nevertheless, it all goes down to making sure the tutor you hire is credible, understanding, flexible, and fits your budget. And you are in luck, because FamilyTutor is not hard to find. With the best quality reviews verified by Google across the home tuition industry, you can never go wrong in trusting your sons and daughters to FamilyTutor.
What are the benefits of home tuition?
Tutoring that takes place in homes as opposed to classrooms is referred to as home tutoring or home tuition. Their own tutors provide the students with direction and instructions. This service provides the student or a small group of students with individualized attention.
One advantage of home tuition is that tutors go to students' homes, saving them the trouble of driving or finding other tutors. Given that, it is also highly practical for parents and students. Additionally, since it is mostly 1-to-1 tuition sessions, they get personalized lessons each and every session based on their learning needs. This will be especially beneficial to students who have special needs rather than being taught the predetermined programs in school.
There are also fewer chances of students feeling ashamed because they are typically alone or in smaller groups, as opposed to massive courses like those seen in schools. In light of this, learners are more willing to ask questions to their tutors.
Why use a home tuition agency?
Unlike directly hiring a tutor from, say, a friend of a friend, or someone you saw on Facebook, or even one who applied to an advertisement you put up, using a home tuition agency saves you many hassles. A home tuition agency is more than just a catalog that parents can peruse to find a tutor to come to their home. To ensure that parents and students choose the finest home tutor for them, parents can speak with our experts.
We have a dedicated staff that takes in parents' inquiries and makes sure they get matched with the best possible tutor for their child's learning needs. To top it all off, our staff makes sure to take your budget at the highest consideration. Sometimes, you will have a hard time negotiating rates with home tutors, and the fixed rates when using tutors from home tuition agencies save you the hassle.
As such, it's also less likely for the home tutor to flake on you if they come from a home tuition agency. These home tutors have dedicated their career into home tuition so they are more committed to tutoring than others.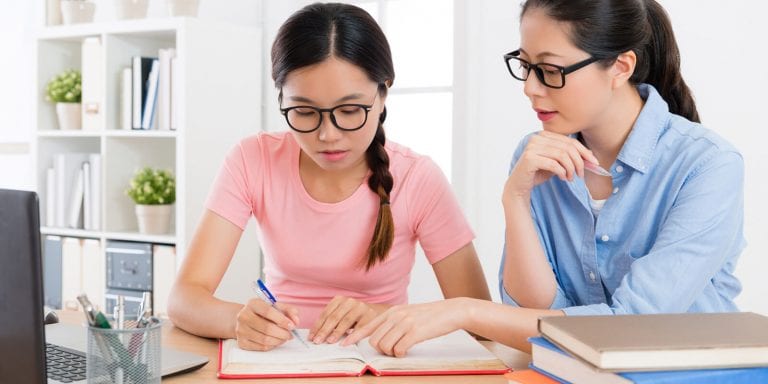 How to find the best home tuition?
With a lot of options for home tuition in Singapore, it can get overwhelming. We have gathered some tips to help you narrow down our search.
1. Do a quick Internet search
Okay, hear us out. There are a lot of options for you here and a quick Google search can help you create a list of prospects for home tutors. In searching for the best home tuition for your child, you cannot just rely on what you can see nearby. Use a quick lookup of the different home tuition agencies. You can also filter your searches by location so you can look at home tuition agencies nearby or even further away.
2. Learn more about the home tuition agency and tutor
So, now you have done your Internet research and have a list of prospects to tutor your child. Great! Now the next step is to meet them and learn more about them. From the get-go, you can further your research by visiting the home tuition agencies' websites and learning what you can from there. Most tuition agencies have their list of services offered, reviews, etc. It will already provide you with a glimpse of what the home tuition agency and their tutors have to offer and how well they can match with your child.
If you are still interested in the home tuition agency, you can schedule to meet with them in person or online. Before committing anything, you should be able to speak with the agency to make sure expectations will be set properly. Additionally, it can also be a good time for you to help them get to know your child's needs and what they can do to help. In FamilyTutor, we are always ready to speak with you through phone or WhatsApp about your tuition concerns, and our matching services are offered for free, so you don't have to worry about hidden fees.
Once you have selected the home tuition agency you're interested in or they have matched you with a potential home tutor for your child, it's time to dig deeper. You can read reviews about them on their website but you can also find other reviews and feedback on different channels like Facebook, LinkedIn, etc. This way, it will help you get a stronger sense of how they tutor students based on the experiences of other tutees. Better yet, you can find someone you can speak with in person to ask for their feedback.
The best way to find the best home tuition in Singapore is by asking around. Talk to your friends and family about their experiences with a home tutor and check online forums for reviews and recommendations.
A good tutor should have the following:
a) Knowledge of the subject and strong educational background
A home tutor is well-versed in the subject being taught to the student. This indicates that an excellent home tutor is knowledgeable enough to easily communicate concepts from the simple to the complex. Here at FamilyTutor, we make sure to only hire home tutors that have the qualifications to teach. Even our part-timers are all either undergraduates studying to earn their diplomas or professionals who have a passion for teaching. We make sure that we check their grades and level of knowledge. Our full-timers and NIE-trained teachers all hold diplomas and experience in teaching. We also make sure our home tutors follow the MOE syllabus.
b) Compassion and adaptability skills
Aside from being knowledgeable in the subject they will be teaching, a good home tutor should also be compassionate and can easily adapt to their student's needs. More so than a harsh one, a compassionate tutor will leave a lasting impression on the students. Instead of overwhelming the student with information and activities like a taskmaster, a superb home tutor should be able to relate to them on a personal level.
A great home tutor may switch up their methods frequently and yet facilitate learning. Keep in mind that students develop as they study. The teaching method that may have been effective with them in the past could become monotonous in the future.
c) Good flexibility and time management
Parents should search for home tutors with strong time management abilities. This implies that they should look for someone who can maximize the hour-long tutoring session since it is so limited in duration.
An excellent home tutor will be able to create a schedule for the student to keep to and ensure that nothing is missed during the lesson. They should follow a plan that is organized. Additionally, they must to have a clear objective in mind for their students. At FamilyTutor, we make sure that there is a guaranteed improvement in our students. We are proud of the approximate 12% increase in our students' average grade improvement.
4. Find out about their payment structure
Budget is also an important factor to take note of when selecting the best home tuition for your child. While it's important to provide them with the best there is, it's also important to make sure you will not be going over what you can afford. As such, you can also discuss with the home tuition agency in-depth questions regarding their payment schemes such as if the parents or students are not satisfied with the home tutor, will they be able to return the fee or switch to a different tutor? Questions such as these will help you get more idea as well with how they operate as a company.
Fortunately, in FamilyTutor, we have three categories of home tutors to choose from that will also fit your budget. We have our part-timers, full-time home tutors, and ex-/current school teachers. We aim to provide your students with the best home tutors for them while still on your families' budget. You can view our rates for different tutors at this link.
With so many agencies offering home tuition services online, it is important to know how to distinguish which could provide the best home tuition experience for your child. Do not just choose the first tutor; there are steps involved in finding a good tutor for your child.
However, as the leading home tuition in Singapore, FamilyTutor ensures you that our home tutors have the qualities of a great and effective home tutors. As the best home tuition agency in Singapore, we not only match your students with the best home tutors but also make sure they have a meaningful relationship and improve their academic skills and values.
Tell Carelle Below What You Think About Her Post!