How Tutoring Can Help Meet Your Academic Goals
How Tutoring Can Help Meet Your Academic Goals
Are you getting overwhelmed by the deadlines you have to meet? Are you struggling to keep up with your homework and study for the next lesson? Are you feeling like you could use the extra help? Tutoring may be the answer you are looking for. Tutoring has become very common in Singapore and in this article, we will discuss finding and working with a home tutor that can help you not only catch up to your studies but also excel in reaching your academic goals.
Tutoring and its benefits
For those who are not familiar with tutoring, it is a form of supplemental education that provides 1-to-1 instruction and in some cases for small groups. This is for anyone that requires additional assistance for their academics or those that want to learn further and beyond the current curriculum that they have. Tutoring is also more often tailored according to the student's needs and thus, helps them further by making sure their learning needs are met.
Some benefits of tutoring also include improved test scores and better grades. Students will also have a better understanding of the concepts and coursework they are learning in the classroom because of their home tutor's help but they will also have developed independent learning skills so they won't have to rely on their home tutors the entire time. As such, because it's mostly 1-to-1 instructions, students have more opportunities to ask questions and receive feedback on their work. With the home tutors' help, they also can prepare for their exams well and even learn some examination-taking techniques that can help them optimize their learning and maximize their use of the time they are taking their exams.
There are also many factors you need to consider in finding yourself the perfect home tutor. But we have a few things to think about to get started on finding the best one for you.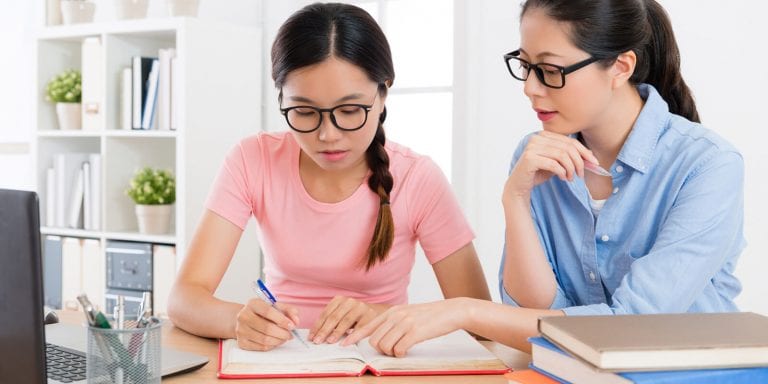 1. Think about your budget
Tutors are available at different price points depending on their experience, availability, and expertise. The good thing about this is that you don't have to break the bank when engaging a home tutor, you just need to take into account how much you are willing to spend for a home tutor. If your parents will be the ones to pay for their services, make sure to also speak with them regarding the budget. Tutor matching is also a good way for you to find a home tutor that fits your budget.
2. Areas you need help in
As much as a lot of people assume that getting a home tutor means they will help you in every single one of your subjects, that's just simply not feasible. For one, being taught all of the topics for all of the subjects after school will simply take up a lot of your time. As such, you may also be overwhelmed with the amount of knowledge. Once you know what you need help with, it can narrow down your options for a home tutor. You can look for home tutors that specialize in certain subjects or topics such as essay writing or Physics. While there are also home tutors that cover a broader range of subjects such as English or History.
3. Examine potential tutors
It's also helpful for you to ask around about your potential tutors before making a commitment with them. This will give you a chance to find out more about their work ethics but also their teaching styles and see if they will be a good fit for what you are looking for. Additionally, you want to make sure that your tutor also has strategies in place and that those can help you work well together towards your shared goals.
Tutoring to help improve grades
Depending on each student's unique needs and investment, tutoring will have varying degrees of success. However, tutoring is frequently a very successful strategy for raising test scores in general.
Tutoring will help strengthen your problem-solving skills as well as critical thinking and time management, all of which you will be needing in your studies and useful for the future. With that, it can also help you by providing personalized lessons and support that is customized according to your specific academic needs. Students who desire to improve their overall grades, as well as those who are suffering in certain academic areas, can both benefit from tutoring.
Online tutoring effectivity
This again really depends on the individual student, their needs, and their preferences. Online tutoring has really become popular in recent years especially with the need for it during the COVID-19 pandemic and with the advancements in tutor management software. Many 1-to-1 tutoring has also turned to online tutoring as it enables them to hire tutors from all over the world as well.
It may have many unique benefits that make it just as effective as face-to-face sessions for many students. As mentioned, online tutoring allows for students to receive tuition from tutors from all over the world. They may be able to learn from expert tutors in different subject areas. Take for example, if a student in a particular area doesn't have access to a home tutor for a specific subject or topic within the area, they have the option to engage with someone farther from where they live within the tutor having to commute. As such, they may also be able to learn more about other cultures especially if they have a home tutor from a different country.
Additionally, online tuition also allows students to work at their own pace. If they are especially struggling or tend to forget certain parts of the topic, they can easily go back and review the material as online tuition can be recorded for this purpose.
Getting started on your tutoring journey
Getting one-on-one assistance with your course material and asking any questions you may have is possible through tutoring. Your tutor should be able to aid you with comprehending the topics covered in your lectures, working through sample problems, and determining any areas in which you require more support. Here are some tips for you to finally get started with your home tutor.
Make sure that the tutor you are engaging with is qualified and has the experience to provide you with the best tuition possible. You can ask for references or contact them to check on their background and qualifications. You can also ask other students they have taught as well for feedback.
Meet with your home tutor for a trial lesson. This will help you get a feel of their teaching style before signing up for lessons with them long-term. This will also help you in gauging out your tutor's personality, which is also very important as you will be spending a significant amount of time with them. It will also help if you are learning from someone you are comfortable with and can speak openly to.
Set clear goals for your lessons and make sure your home tutor understands what you are hoping to get from the sessions as well as what you want to achieve academically. Come prepared with specific questions or topics as well that you want to cover for each session. This will help you get the most out of those sessions and help enrich your learnings further. As such, make use of the resources your home tutor has to offer such as past exam papers or practice quizzes.
Thinking of joining group tuitions instead?
AGrader Learning Centre might just be the perfect tuition centre for you!
Established in 2013, AGrader Learning Centre is one of the most comprehensive tuition centre chains in Singapore with over 16 convenient locations islandwide.
To date, AGrader has impacted over 20,000 students with an over 83.4% improvement rate (without pre-selecting students). Check out their hundreds of reviews at https://www.agrader.sg/reviews 
Along with regular weekly lessons, AGrader also provides the proprietary EverLoop Improvement System, where students have access to extra worksheets, and comprehensive learning videos & can attend as many extra revision sessions as required (in-person or from home) to revise and improve after class.
On top of that, complimentary with all enrolments, students have unlimited access to extra learning resources of up to 3 previous levels (e.g. P6 student receives everything from P3/P4/P5 too) to help them revise and improve even more. This includes everything from worksheets, exam-oriented questions and learning videos!
Website: https://www.agrader.sg
Subjects and Levels Offered:
K1 & K2: English & Math
Primary 1 – 6: English, Math, Science, Creative Writing
Secondary 1 – O Levels: English, Math (E-Math & A-Math)
Locations:
16 branches islandwide: https://www.agrader.sg/locations 
Fees:
Check out the fees at https://www.agrader.sg/fees 
Have a question? Get in touch with them to find out more at https://www.agrader.sg/enquiry 
Tell Carelle Below What You Think About Her Post!
FamilyTutor is an established home tuition agency in Singapore! We match suitable home tutors for our clients not just to improve the students' academic grades, but also to build a strong rapport and meaningful relationship with the students and even the their whole family. FamilyTutor put every student in good hands!

If you need an excellent home tutor, feel free to call/WhatsApp us at +65 8777-2168! Our matching service is free!