How To Promote Yourself As A Private Home Tutor Using Google Business Profile?
In the current era of digital advancement, establishing an online presence is indispensable for all businesses and service providers, including private home tutors. 
Creating a Google Business Profile stands out as one of the most potent methods to solidify your online presence and effectively promote your tutoring service.
Being a home tuition agency renowned for our exceptional online reviews, we FamilyTutor fully comprehends the influence of having a well-established Google Business Profile. 
And now, we are dedicated to assisting you in attaining the same level of recognition and success!
Why Should A Private Tutor Create A Google Business Profile?
Here are four compelling reasons why you, as a home tutor, should create a Google Business Profile for your own tutoring service:
1. Increased Online Visibility
A Google Business Profile allows you to appear prominently in search engine results when potential students or parents are looking for tutoring services in their area.
By creating a profile, you ensure that your tutoring service gets noticed by a wider audience, increasing your chances of attracting new students by yourself
2. ​Association with Google
Google is the most widely used search engine worldwide and a trusted brand.
Users have confidence in the accuracy and relevance of information displayed through Google's platforms, including Google Business Profiles.
The association with such a reputable company enhances the trustworthiness of the information presented.
With a Google Business Profile, you can provide detailed information about their services, such as the subjects you teach, grade levels, teaching methods, qualifications, and any other relevant details.
This enables home tuition agencies like FamilyTutor, or even potential students and parents to make informed decisions and choose a tutor who best matches their requirements.
4. ​Contact Information and Reviews
By creating a Google Business Profile, you have the ability to showcase your contact details, such as phone numbers and email addresses, providing interested parents and students with a convenient means to reach out to you directly.
Moreover, the profile permits the inclusion of reviews and ratings, enabling previous students or parents to share their experiences and testimonials.
Positive reviews have the potential to greatly augment your reputation and draw a larger number of students to your tutoring service.
Crucially, when you apply for a tuition job with FamilyTutor, you can leverage the advantage of these positive Google Reviews as a distinctive selling point of your own! 
According to internal research conducted by FamilyTutor, tutors who possess their own Google Business Profile and receive positive Google Reviews are three times more likely to be selected by parents compared to tutors who lack these credentials!
What Is A Great Example Of A Private Tutor Google Business Profile?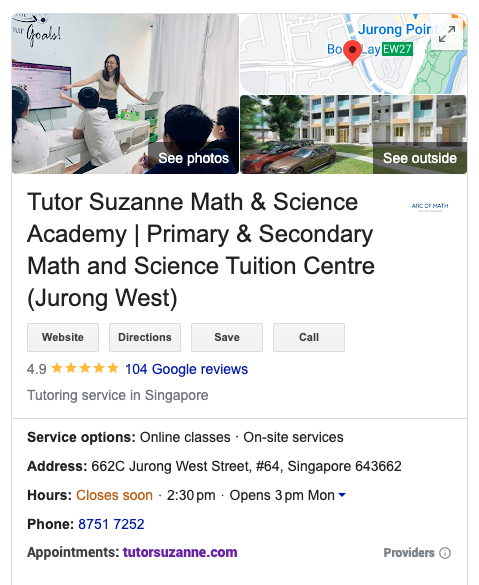 What Makes Tutor Suzanne's Google Business Profile Effective?
1. Accurate And Complete Information
She provides accurate and comprehensive details about her tutoring service.
This includes her business name, address, phone number, website, operating hours, and a concise yet informative description of her tutoring offerings.
2. Professional And Engaging Photos
She includes high-quality, professional photos of herself and her tutoring space.
This can create a positive impression and engage potential students and parents.
Visuals that showcase a welcoming and conducive learning environment can be especially impactful.
Source: Google Maps (Tutor Suzanne Math & Science Academy)
3. Positive Reviews And Ratings
She encourages (we assume) satisfied students or parents to leave positive reviews and ratings on her profile.
These testimonials build trust, demonstrate her expertise, and attract new clients.
Extra tips: By engaging with reviews, whether they are positive or negative, she can further enhance her performance. This demonstrates a strong commitment to delivering exceptional service and can further inspire trust and assurance among prospective students and parents.
4. Relevant Categories And Attributes
She selects the appropriate category "Tutoring Service In Singapore" to ensure that her profile appears in relevant search results. 
Based on her prominent position on Google Maps, it can be inferred that she has been diligently and promptly attending to inquiries and messages from prospective clients.
Displaying such strong responsiveness and dedication to addressing questions or concerns not only showcases professionalism and a commitment to exceptional customer service but also contributes favourably to the algorithmic ranking of her profile on Google Maps.
By crafting a Google Business Profile like Tutor Suzanne's, you can harness the influence of Google's extensive user community, enhance your online visibility, foster credibility, and facilitate the discovery and selection of your services by prospective students and parents. 
It serves as a straightforward yet potent method to promote yourself as a home tuition teacher and establish a robust online presence in today's digital world.
How To Create A Google Business Profile For Your Tutoring Service?
Google Business Profile Help provides an incredibly helpful, detailed walkthrough on the process of creating a business profile.
To access the written guide, click here.
Alternatively, if you prefer visual instructions, you can invest some time in watching the step-by-step video guide presented below.
How Can FamilyTutor Help You With Your Google Business Profile?
Regrettably, we are unable to assist you in creating your profile.
However, if you have experienced a successful tuition assignment with us, we can extend a favor by providing you with a positive Google Review!
Having a reputable home tuition agency like FamilyTutor offer you a positive Google Review will expedite your ascent in the Google Maps rankings!
If you haven't yet had a successful tuition assignment with FamilyTutor, we encourage you to join us and begin applying for tuition jobs today!
Tell Radiance Below What You Think About Her Post!